Unlike most of our FMC Feature Cars, the Ford Mustang is one that needs no introduction. For those familiar with the segment, a photographed example will usually accompany a brief written history of the chosen automobile. The story of the Mustang is one every petrol-head should know. For those who don't there are many great resources to learn it – Lee Iacocca's Autobiography is a great place to start. And instead of doing a poor job of condensing the entire history into the next thousand words myself, I think a better idea would be to instead focus on some lesser-known Mustang trivia. Feel free to use it at your next dinner-party or cars-and-coffee meet.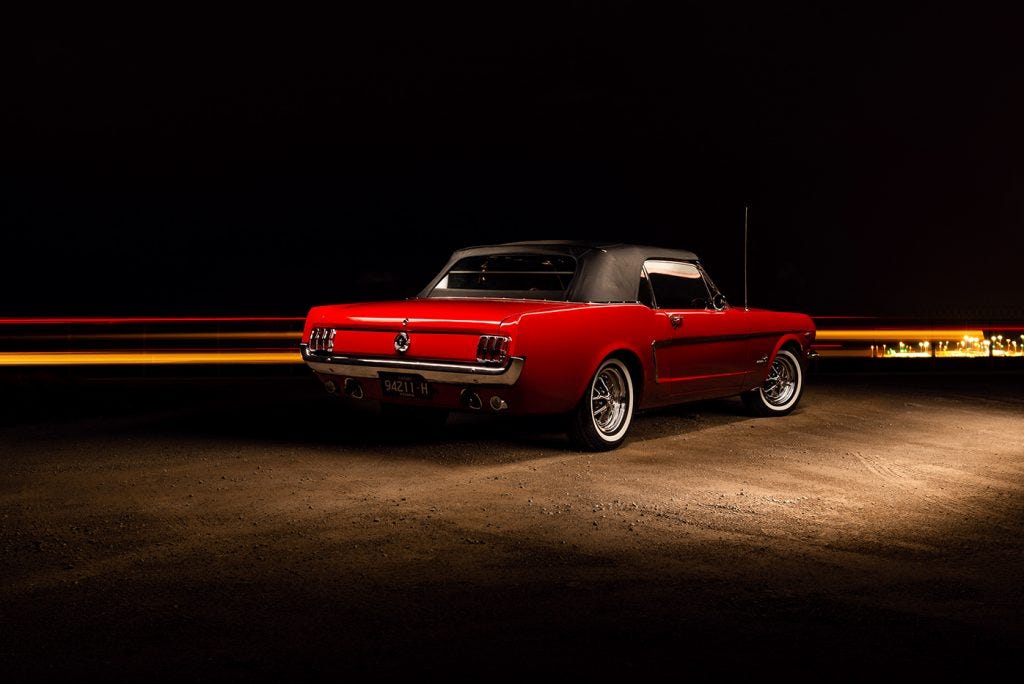 No car has had more marketing time and resources dedicated to it than the Mustang. The day before the original Mustang was publicly unveiled in April 1964, Ford sponsored ads on the majority of the US's television networks. These ads unveiled the Mustang to over 30 million Americans in US prime-time. Upon its launch, Ford strategically placed cars on display in over 70 hot-spots around the country such as airport terminals and holiday inn's, to allow potential customers to see the car in the flesh without having to visit a dealer.
The original Mustang broke new ground when it came to affordability. The base model was priced at $2,368 upon its release in 1964. The closest competitor from a US manufacturer was Chevrolet's Corvair, which was slightly more expensive than the Mustang but also much smaller with significantly less options and features. Most cars that could truly match what Ford had to offer came from European marquees such as Triumph or Porsche. These however were over $1000 more expensive than the Stang (imagine paying $10,000 more for a Commodore today than it's most similar Falcon). In 1967, GM released the Chevrolet Camaro which became Mustang's closest competitor. The closest they ever came however was within 92,000 sales in 1969.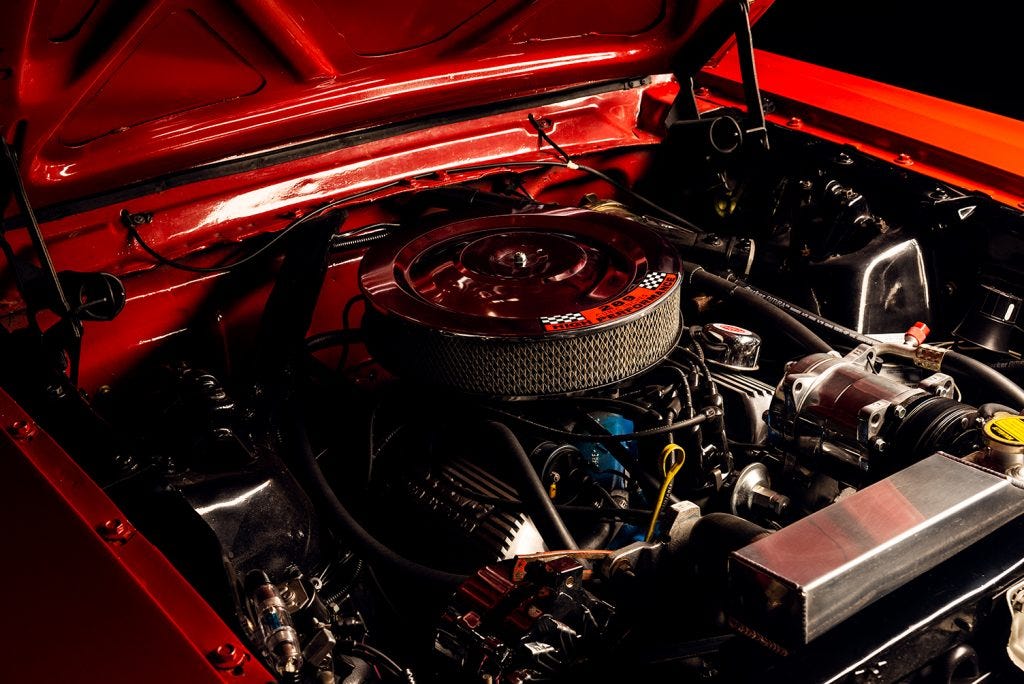 The Mustang officially went on sale in July of 1964, however all of the cars built and sold were VIN coded and titled as 1965 models. This has led to any model built in '64 to be unofficially referred to as a 1964 and-a-half model. Ford only anticipated selling 100,000 Mustang's in their first year, however they ended up selling four-times that figure. American's were so Mustang-crazed that at the end of 1964, 93,000 pedal-powered children's Mustangs were bought and placed under Christmas trees.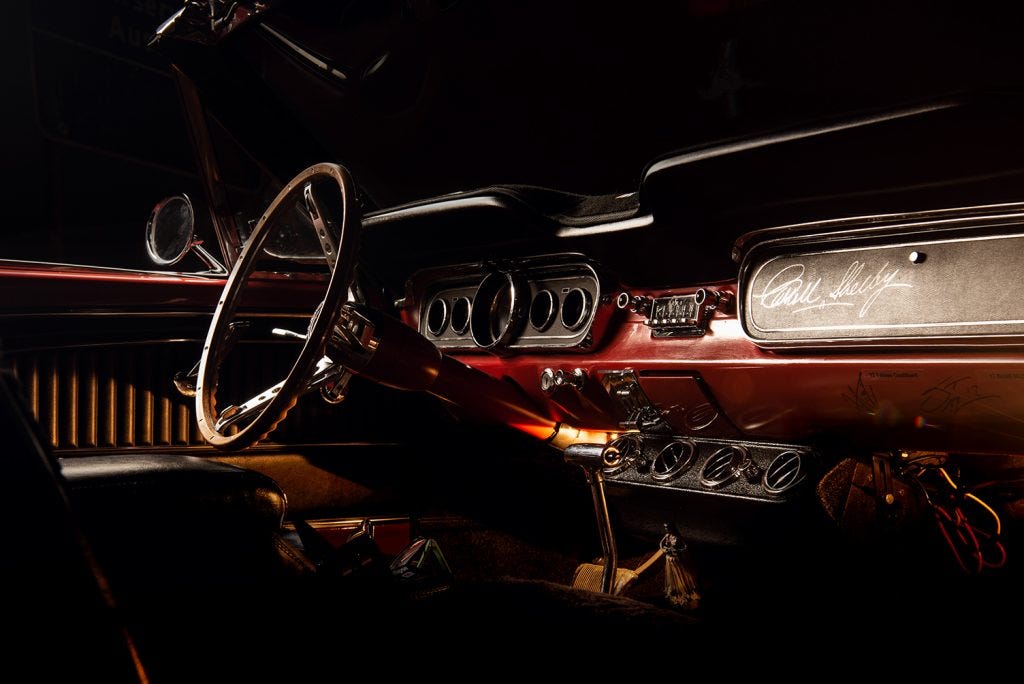 One of the key selling points behind the car was the array of options it was available with. The Mustang came in coupe, convertible or fastback form and with three different engine sizes. The car could be optioned in 17 colours (including two different shades of pink) and 40 different interior trims.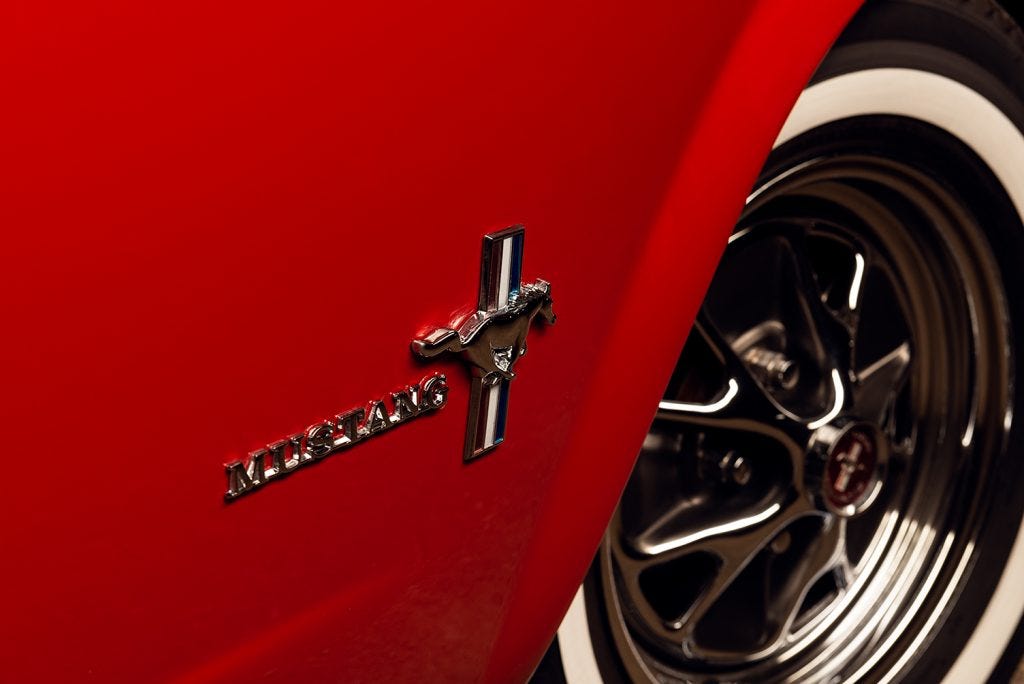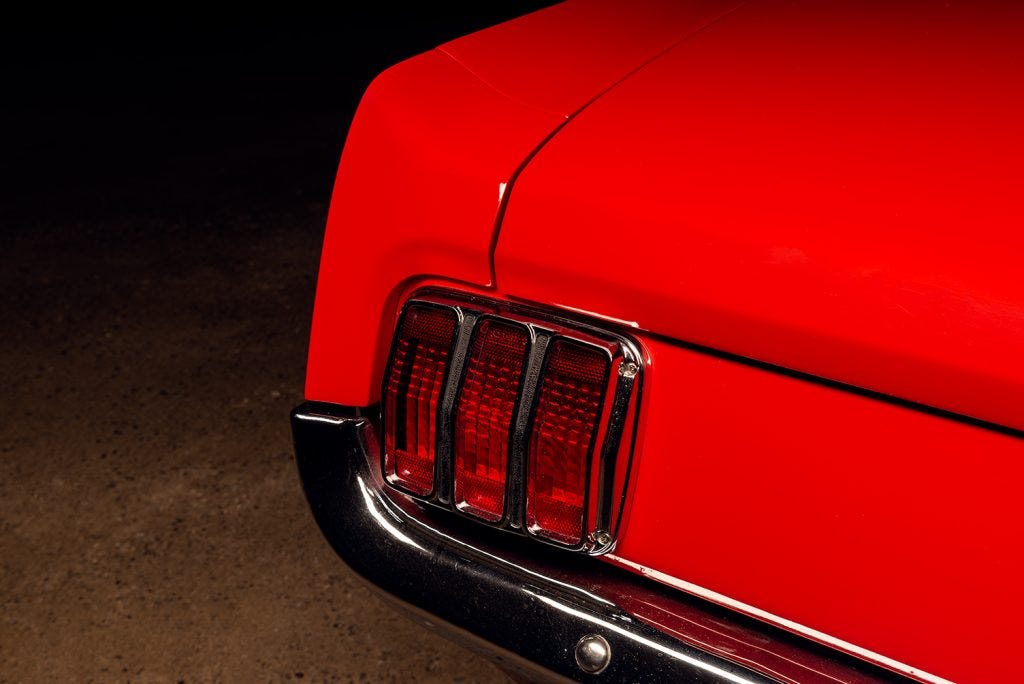 In 1966, Ford engineers assembled a Mustang on the 86th-floor observation deck of the Empire State Building in New York. The convertible was disassembled and taken up in four different sections in the building's elevators before being put back together. In 2014, Ford repeated the stunt with a current yellow convertible to mark the cars 50th anniversary.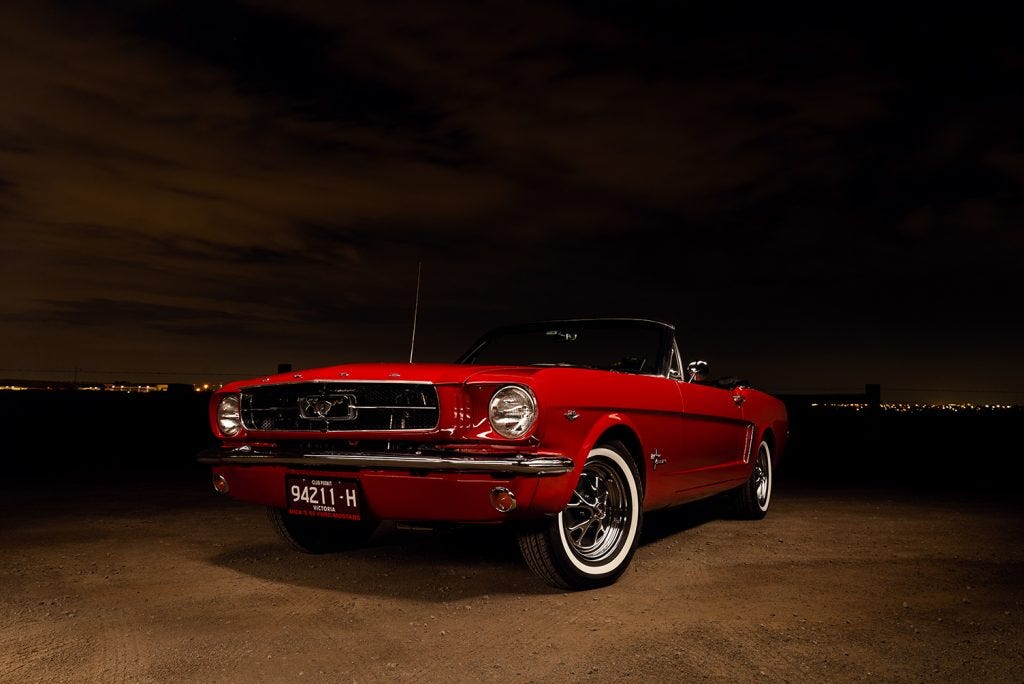 Throughout the 60's, the Mustang continued to grow, becoming larger and more powerful. By 1969, there were 11 different power-train combinations including the top-of-the-range 429 cubic-inch motor. By comparison, the highest output motor of the '65 Mustang was only 289 cubic inches. By 1971 the Mustang was over 30cm longer and 450kg heavier than the original. The Mustang finally succumbed in 1973 to rising emissions regulations and gas-prices putting an end to the high-output pony car. The Mustang II was released later in 1973 on a smaller, heavier and less powerful platform. It was significantly less sporty than the car it replaced reflecting a new age for the American auto-industry.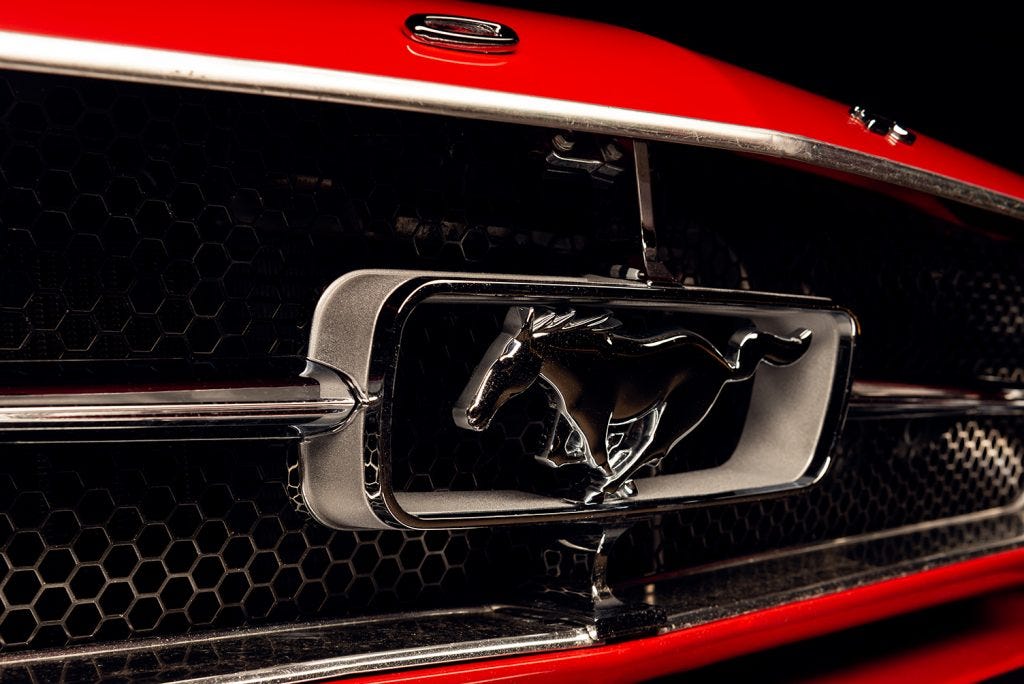 The Mustang name could not be used in Germany as one of their truck manufacturers Krupp had been producing a model known as the Mustang since 1951. Krupp offered Ford the name for $10,000 (close to $100,000 in today's currency) however they declined and instead sold the car badged as the T-5.
Not including the current 6th-gen Mustang, red has statistically been the most popular colour of choice, with blue following in second. In the first 50 years of Mustang production, 21% of cars have been red with around 17% blue. Silver is next with 14% and white not far behind with 13%. The latest generation Mustang has featured a number of colours previously not popular in Mustangs of the past such as orange, burgundy and lime green. The most popular choice on current models is black.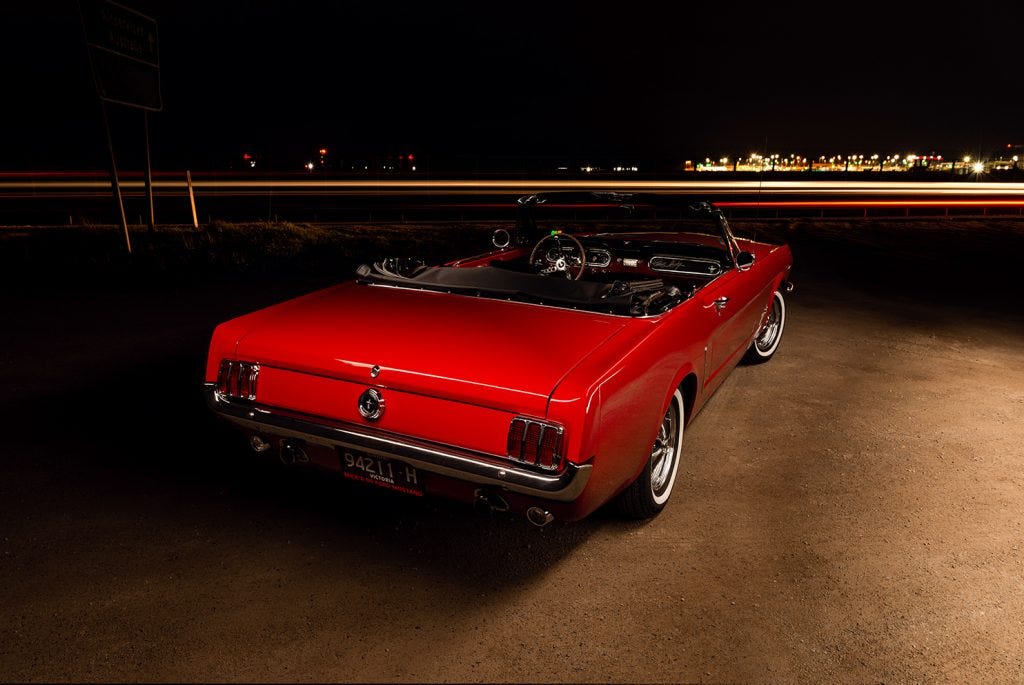 Michael's beautiful example is one of the 1964 and-a-half models previously mentioned. While it's not a numbers-matching car, Michael sees this as an advantage-enjoying the Stang as a driver and not a garage-queen like other original owners may. The convertible presents beautifully and has won a number of awards from shows it has featured in. Michael is a member of the Melbourne Mustang Club and regularly gets involved with meets and cruises. FitMyCar has previously worked with the club and a few of its passionate members while producing our Mustang feature-film in 2019. For any owners of a classic like Michael's '64, you'll have to get in touch with us for some custom mats. If you happen to own a current-gen Stang however, you can check out FMC's great range of Mustang products here.
All photographs by Nick Williams